Footy team from the bush get their pre-season kicks on the Shipwreck Coast
By Darren Stones

It's not all that often one sees sporting activity in Loch Ard Gorge, however it provided an ideal venue for beach volleyball and to kick-off autumn in Victoria, Australia.
The Swan Hill Football Club was on its pre-season camp and Port Campbell was their venue of choice. The rugged coastline of the Port Campbell National Park and the spectacular coastal features of the Great Ocean Road is a long way from the winter fields of play along the Murray River in Victoria.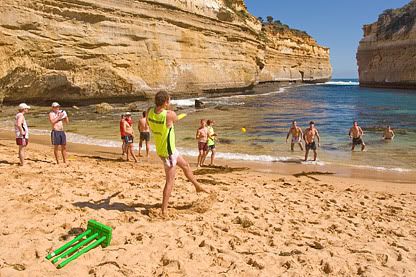 Beach cricket sharpens the reflexes: Swan Hill Football Club players with their eyes on the ball

The suntanned players were involved in various ball-type activities which were aimed at sharpening their reflexes and balance. The soft sand and soothing salt water are an ideal combination for young muscles in training.


Beach volleyball in the gorge: Swan Hill Football Club representatives in training at Loch Ard Gorge

Other club representatives were playing beach volleyball at a skill level not reminiscent of world champions. However, team bonding is what this exercise was about in readiness for their challenging season ahead.