Travel Photography - Wildlife
By Darren Stones
Photographing kangaroos is always fun, but when you get the opportunity get up close to one near the ocean in a national park, the experience rises to a whole new level.
I photographed this Eastern Grey Kangaroo in the Murramarang National Park in New South Wales, and I have to admit it was a huge thrill. Given it was getting late in the day, I had to fire some fill flash to this scene so as to lighten up the front of the roo against the sublime backdrop of the ocean.
Each afternoon at Pebbly Beach, the kangaroos emerge from the forest and come down to the grassy mounds adjacent the beach. Fascinating to watch them, and a real thrill to get up close with one.
This photograph of an Eastern Grey Kangaroo at Pebbly Beach is available for sale in a variety of quality print products. Purchasing is easy via the internet, and each product comes with a money back guarantee. If you're looking for a quality framed print to decorate a feature wall in a living area in your home, or a wall in your office, you'll find framing, matting and size options to suit your budget.
Kangaroo by Darren Stones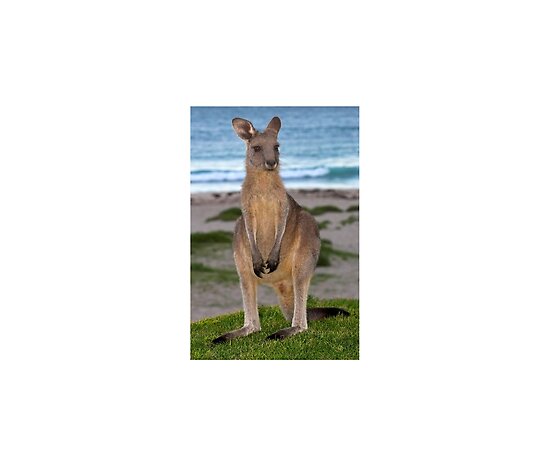 Product range:
Postcard
Greeting Card
Photographic Print
Matted Print
Laminated Print
Mounted Print
Canvas Print
Framed Print
Poster
You are invited to view my portfolio of Australian images and writing at RedBubble.
http://www.redbubble.com/people/dgstones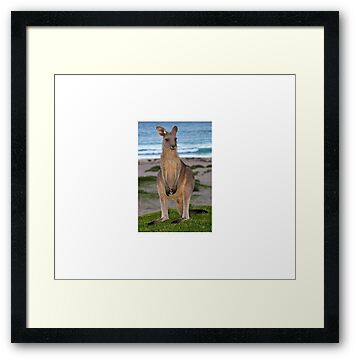 Framed Print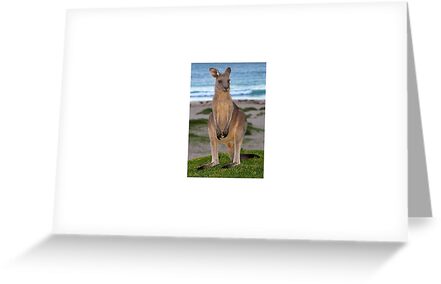 Greeting Card