By Darren Stones
It's always good to travel to country areas in Victoria, and on Wednesday 19 October 2011, I had the pleasure to visit the Lal Lal Moorabool Photographic Group. What a great group of people who love their photography and a fun and relaxed night out.
The club is new and formed in early 2011 as a result of their first meeting on Wednesday 16 February. Club Secretary Kristina Kitchingman is a founding member who was involved in initiating the group and during my visit was kind to show me some information of how the club is evolving.
The Moorabool Shire is assisting the club with various activities and gave the club a grant of $3000.00 to kick them along. Club members are displaying prints and digitally projected images at the Bacchus Marsh Library, and members are supplying photographs to be included in an upcoming shire calendar.
Lal Lal Falls
Water drops thirty metres into the gorge formed by the collapse of lava tunnel apparently formed from Mt Buninyong, which is an extinct volcano.
Photo: Kristina Kitchingman
Local newspaper coverage has assisted them in promotional activities and attracting new members, and already they have conducted their first exhibition on 26-28 August 2011 at the Lal Lal Soldiers Hall, which attracted 80 visitors each day.
The club is now discussing fundraising activities and they are looking to conduct sausage sizzles at the Bunnings stores at Ballarat and Melton. Field trip ideas are being discussed, with member input being encouraged. The club is conducting a competition each month with the aim to inspiring members to be active photographers.
An end-of-year BBQ and picnic is planned and will be held at Lal Lal Falls on Sunday 18 December 2011 at 12pm. BYO BBQ meat, picnic, drinks, chair, and of course your camera. Visitors are most welcome.
Lal Lal Water Tower
Original water tower built to service the Geelong/Ballarat railway line.
Photo: Kristina Kitchingman
The club meets on the third Wednesday of each month at 7pm (except January) at the Lal Lal Soldiers Hall, 412 Clarendon Road Lal Lal. They invite visitors to join them for exploring all aspects of photography and the local area of Lal Lal. An information brochure is available on the night to visitors and prospective members.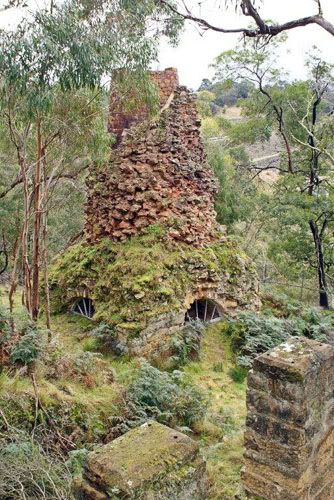 Lal Lal Blast Furnace
Photo: Kristina Kitchingman
For further information about the Lal Lal Moorabool Photographic Group and its activities, contact Club Secretary Kristina Kitchingman on 03 5341 7535.
Photographs courtesy of Kristina Kitchingman.