The Sapphire Coast will be eggsactly perfect for family holiday fun this Easter
By Darren Stones
I remember the days—before Facebook and iPhones—when I'd peel back the foil paper of a neatly-wrapped chocolate Easter egg and begin to ponder its fate. Inevitably I'd begin playing with my food and go through the annual Humpty Dumpty sat on a wall ritual. Not surprisingly, Humpty would come crashing down and shatter into bite-size pieces and then I'd munch away to my heart's content. A kid's got to do what a kid's got to do!
When it comes to entertaining your kids this Easter, the Sapphire Coast in New South Wales is the ideal place to take a holiday. With an abundance of kid-friendly things to do, it's time for mums and dads to make accommodation bookings in readiness for some terrific fun and games.
I've had Liz Swanton from Sapphire Coast Tourism on the case and she's come up with some great Easter holiday ideas. "If your kids are captivated by critters, the Sapphire Coast offers fascination aplenty in the school holidays," she said.
Liz says the Sapphire Coast Marine Discovery Centre at Eden is offering a tailored-to-you program of workshops themed 'soft and squishy', which is aimed at de-mystifying underwater creatures. For a group of four or more, the Centre will schedule a discovery session to fit your holiday timetable. Contact the Centre to book a time on phone: 02 6496 1699.
http://www.sapphirecoastdiscovery.com.au/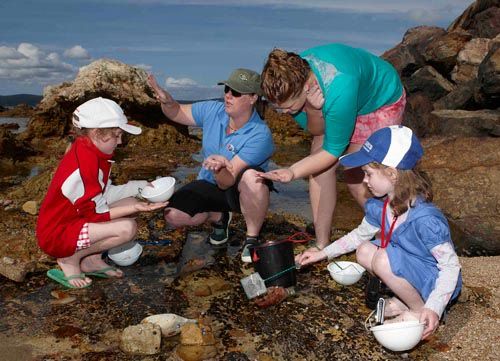 Marine Discovery Tour: Sapphire Coast Tourism
Liz also informs that platypus, snakes and koalas are among the subjects covered by the National Parks and Wildlife Service's Discovery walks, talks and tours program. She suggests checking the Sapphire Coast website for more details and to book your adventure by calling 1300 361 606.
http://www.sapphirecoast.com.au/
Here's 10 more beaut ideas to add to your list:
The Bega Cheese Heritage Centre is worth a visit to taste the region's award-winning cheeses and find out more about the history of the dairy industry. http://www.begacheese.com.au/
The Eden Killer Whale Museum is where you will discover the fascinating story of the whales that used to help the earliest settlers. http://www.killerwhalemuseum.com.au/
The Visitor Information Centres on the Sapphire Coast are staffed by friendly locals who can assist you if you get stuck for further ideas. Some centres stock toys, and all have a large range of quality merchandise. For more information, check out the Sapphire Coast Tourism website.
http://www.sapphirecoast.com.au/