Travel Photography - Landscape
By Darren Stones
Photographing outback areas can be a real challenge due to the extremes of weather and Perry Sandhills is no exception - particularly if it is hot and windy. And when travelling through an area where your time is limited, you really do have to make the most of the opportunities you have.
I photographed this section of the Perry Sandhills at Wentworth in New South Wales during the cooler months whilst touring the Murray River region. Being a photographer who prefers to shoot landscapes during the afternoon, the weather was quite pleasant on this particular day. The green grass caught my eye in amongst the sandhills and I thought this was just begging to be photographed.
Located in outback New South Wales, the sandhills originated after an ice age 40,000 years ago and have been formed by wind erosion over thousands of years.
This photograph of the Perry Sandhills is available for sale in a variety of quality print products. Purchasing is easy via the internet, and each product comes with a money back guarantee. If you are looking for a quality framed print to decorate a feature wall in a living area in your home, or a wall in your office, you will find framing, matting and size options to suit your budget.
Perry Sandhills by Darren Stones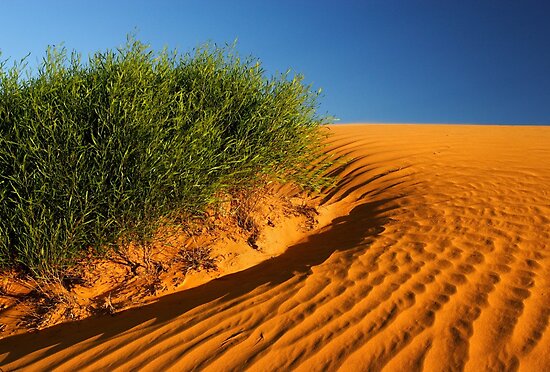 Product range:
Postcard
Greeting Card
Photographic Print
Matted Print
Laminated Print
Mounted Print
Canvas Print
Framed Print
Poster
You are invited to view my portfolio of Australian images and writing at RedBubble.
http://www.redbubble.com/people/dgstones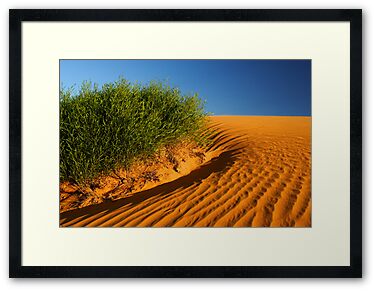 Framed Print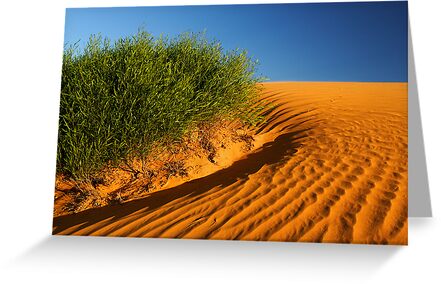 Greeting Card